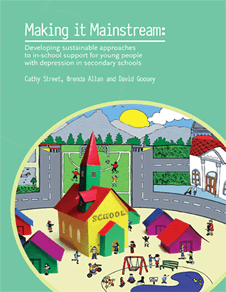 In July 2009 we published a toolkit to help develop sustainable in-school support for young people with mental health problems, in particular depression.  The resource, Making it Mainstream, has been widely disseminated to a wide range of professionals  who work in or with schools and has proved extremely beneficial in contributing to a greater understanding of the mental health of young people and the development of timely actions to support pupils in difficulties.
"An excellent resource and my staff have found it very helpful"
Throughout his life William Yapp was interested in the advancement of knowledge and the trust has previously supported educational work and research.  The financing of Making it Mainstream was a partnership between the Yapp Charitable Trust and members of the family of a young person whose mental distress was not recognised in time.  We commissioned a small team of researchers to work with a selection of schools to further our understanding of what works in schools and the barriers that staff can face in developing in-school support strategies. In addition, a wide range of school staff offered their views and suggestions on the initial project findings at an event in November 2008 supported by SENJIT (Special Educational Needs Joint Initiative for Training) at the Institute of Education in London.  We are very grateful to all the schools and the staff who work in or with schools, who contributed information and ideas for this publication.
We are not currently inviting research proposals.