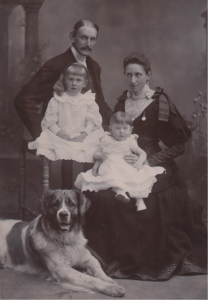 William Johnston Yapp was a Sussex-based cigarette manufacturer (of Carreras cigarettes) and a philanthropist during his lifetime. His neo-Egyptian Art Deco factory, inspired by the opening of Tutankhamun's tomb and fronted by two huge black cats, is still a feature of Mornington Crescent in Camden Town.  He was praised at the time for providing air-conditioning and medical facilities for his workers. In 1934 he gifted £15,000 to the Greenwich Observatory to build a state of the art telescope. The 36" Yapp Reflector can now be seen in Dome B at the Observatory Science Centre in Herstmonceux, East Sussex.
Mr Yapp was a widower with two married, but childless daughters. He died in January 1946 at the age of 84 leaving a substantial trust fund to financially support a number of named beneficiaries – mainly widows and children of his employees. His instruction to the trustees was to discharge his responsibilities to these people for 21 years (and beyond if their need remained). During this time, any remaining funds could be distributed to worthy causes and there are records of significant grants being made throughout that timeframe. In 1968, the surplus funds were used to establish two trusts – one concentrating on Social Welfare and the other on Education & Research.  In 1999 they were combined into The Yapp Charitable Trust, which retains the same objects but with a simplified administrative structure.
Mr Yapp also bequeathed his sizeable home (Beech Hurst in Haywards Heath) to the local community. The house has since been demolished but the grounds still exist as a public park. Beech Hurst Gardens are managed by Mid Sussex District Council.